The Marriage Meeting Guide authors Jordan and Amy Fowler have released an article on how husbands can gain or grow their wives' respect entitled Husbands, To Gain Respect From Our Wives We Must Go First. It is natural that husbands seek respect. Research by Shaunti Feldhahn shows that respect is the top perceived need of a husband. The article provides practical steps to gain a spouse's respect. One of the best ways for a man to experience his wife's respect is for them to initiate a conversation that establishes how both they both feel regarding what feels respectful or disrespectful. The article provides questions to guide this conversation and is currently the top viewed article on the site. As they say, "if you don't ask, you don't get." Many relationships that appear to be stagnating or coasting along may benefit from the article and the guide's advice.

"Men have this built-in need to be respected by their spouse," says author Jordan P. Fowler, "but they don't often know what they need to do practically to gain or grow their spouse's respect. When husbands initiate a weekly 30-minute marriage meeting, it does much to increase the respect they receive from their spouse—sometimes almost immediately."
The article supplements content found in The Marriage Meeting Guide now available on Amazon, shipping worldwide. The book has received favorable reviews from verified purchasers who have found the information helpful, and it has earned an aggregate rating of 5 Stars.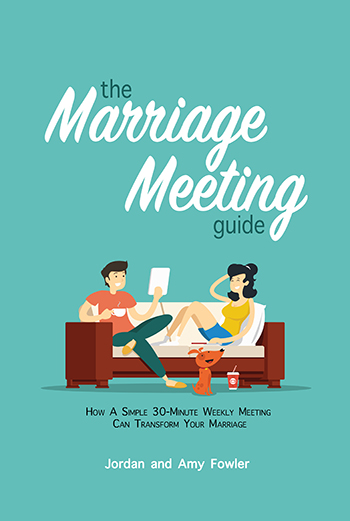 The book is a wonderful guide that can help those who want to improve their relationships through better communication. It provides ten powerful and profound questions for readers to explore in a positive and constructive brief meeting. The book shows how they may have a weekly guided conversation, giving those who want to transform their marriages the tools they need. The Marriage Meeting blog provides additional questions to use in The Marriage Meeting agenda.

It is commonly said that about half of all marriages end in divorce. However, US divorce rates fell 18% between 2008 and 2016, which indicates that millennials are doing things differently, including making better marriage choices. This is according to Philip Cohen, a sociology professor at the University of Maryland. However, this perspective does not take into account relationships that fall apart prior to marriage, which would also benefit from the advice in The Marriage Meeting Guide.

To be clear, the guide provides practical advice for those who want constructive ways to ensure that their relationship stands the test of time. Many relationships that appear to be stagnating or coasting along may benefit from the guide's advice.

One verified purchaser, Diana, a licensed family therapist, says in her 5-Star review, "I've heard Jordan and Amy talk about their marriage meetings before and loved the idea. Now that they have put it into a book, this is even better! Communication problems plague relationships, and the advice in this book is great. This is quick to read and apply immediately. Every couple should try this conversation guide for at least a month and see their marriage deepen as they learn to address key areas of their life and draw nearer to one another. Thank you for sharing your wisdom!"

The Marriage Meeting is the Fowler's first book to be published on Amazon. The brief guide is the culmination of wisdom and practical advice compiled for the benefit of those looking to have better relationships. Many people turn to marriage counseling, friends and family when working through domestic issues. However, nothing replaces clear communication between the two people most intimately involved. Having a guide on hand can serve to take the heat out of a private conversation.

In another review, Erin Lowack says, "This short guide is actually very helpful! My husband and I had our first meeting today after we both read the book. We talked for an hour and a half and had a lot to say—more than we both realized. We are excited too about what we discussed and we both feel good about each other's expectations. We are looking forward to a productive week. There is no way we can tackle all we discussed in one week, but we will take it one step at a time."

Anyone who wants to have a good marriage and make it better will benefit from using the guide and the supplemental articles found on themarriagemeeting.com. Those who feel that they no longer communicate about the most important things in their relationship will find the guide very useful as well. There is no need to feel like the most significant relationship in life has merely become two ships passing in the night.

Using The Marriage Guide, those who are engaged or looking for a deeper relationship can get started on a healthier path. Unlike other books with questions that help people explore and chat about non-crucial issues, the ten questions in The Marriage Guide are conscientiously posed to address the most critical aspects of a stronger, more fulfilling relationships.

Those who would like to make the most of their relationship are encouraged to get their own copy of The Marriage Guide, which is now available in paperback and on Kindle. Inquiries may be directed to The Marriage Meeting social media accounts on Twitter, Instagram, and Facebook.


SOURCE: Press Advantage [Link]