Oktogon 1, Budapest based party planner Pub Crawl Budapest is reaching out to the wider community to share their admiration of the Dürer Kert Ruin Pub. Pub Crawl Budapest is a long running ruin bar tour that provides people a chance to visit the best ruin bars in Budapest.
The Dürer Kert Ruin Bar is situated in a building that originally began as a boarding school before serving as a Soviet College and then as part of a prestigious Hungarian university. Today, the building houses a leading club in Budapest that is positively brimming with personality. A guest of the Dürer Kert Ruin Bar will be able to experience the whole spectrum of music within one night as the bands rotate through a variety of genres, including indie, hip-hop and various electro trends. The stage at Dürer Kert is also open to all current productions, cult figures and fresh talents from both the Hungarian and the international music scene.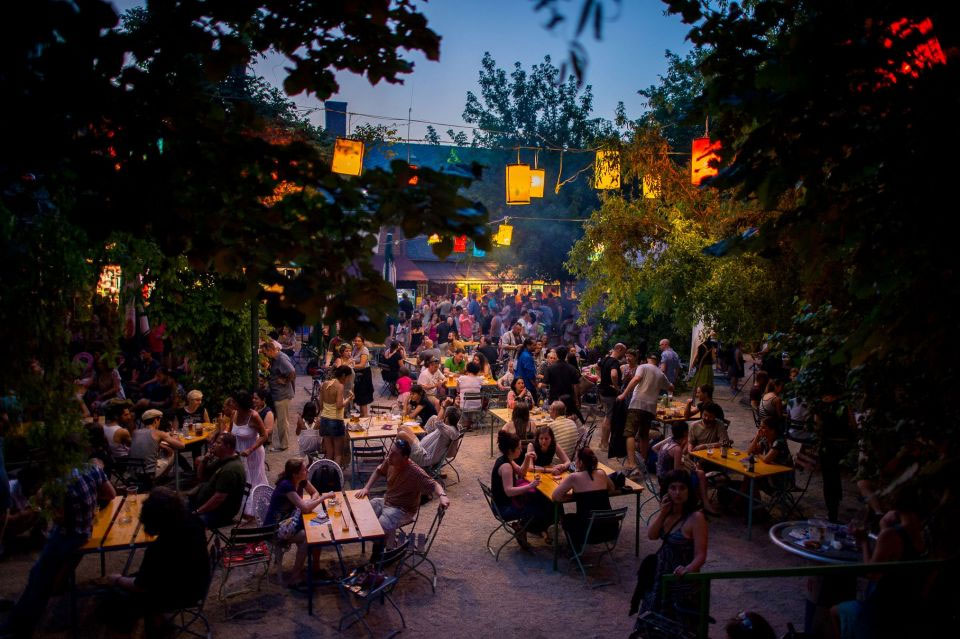 Pub Crawl Budapest says, "Ask anyone in Budapest and they know the Dürer Kert. It's become an essential part of the Budapest nightlife. It has a cult following and it's perfectly understandable why. In summertime, Dürer Kert's ancient trees provide a shady place to rest after a long workday. You'll find a number of hammocks, swing canopies and even an old, transformed Volán bus where you can hang out with your friends in the garden."
They continue, "Of course, resting is not the only thing you can do in Dürer Kert. You'll find concerts, open air grill parties, table tennis, and table football matches, all providing the fantastic carefree enjoyment you deserve. If you've been to Dürer Kert, you'll also know that it is a great place for all-night conversations, the natural ambiance of the place just enhances everything." More information about Dürer Kert can also be found at the following link: https://local.google.com/place?id=9892069758560073052&use=posts&lpsid=7725903771655276166.
Pub Crawl Budapest has established itself as a wellspring of information when it comes to Budapest's colorful pub scene. Since the company started back in 2007, they have played host to over 30,000 guests. Pub Crawl Budapest also has the honor of being Hungary's first licensed Ruin Bar Tour.
The company provides a variety of services, including private pub crawls, stag pub crawls, beer pub crawls, wine pub crawls and more. With each crawl, guests are assured free welcome shots (one at each bar), visits to four cool ruin bars and one club and free VIP entry at every location. Pub Crawl Budapest also offers Power Hour Pub Crawls, which allows guests 40 minutes of unlimited premium drinks. The company says, "If you want to experience some next level nightlife, there's no need to limit yourself to shots and beer—you can have a rum with some coke, or gin and tonic with our premium Power Hour Pub crawls."
Pub Crawl Budapest's knowledge of the Budapest bar scene and their entertaining pub crawls have earned them many fans. On Google, Pub Crawl Budapest has a near perfect rating of 4.8 stars out of 5, based on more than 250 reviews. In a recent 5-Star review, Leandro Oliveira says, "Pub Crawl Budapest is an amazing tour! I enjoyed it very much; the best night in Budapest together with our lovely guide Aleksandra! She is literally the gift of life! So nice, kind and welcoming! If you want to have the best Pub Crawl ever, ask for her."
Pub Crawl Budapest is also very highly rated on Facebook, with a 4.9 star rating out of 5, based on nearly 500 reviews. In his review, Mert Ünal says, "Utku and Shairil were really helpful! They made the whole event pleasant, took care of everyone despite the fact that we were 50 people. I'd do it again with Utku since he is the best in town! Very genuine and sincere guy; he always gives his best attention to everyone regardless of their nationality, gender or race."
https://www.youtube.com/embed/videoseries?list=PLzWLZZLpSeaThoTYFBzYC5Xncu0yGPha7
Those who want to learn more about Pub Crawl Budapest and the services offered by the company can find more information on their official website. Interested parties are also encouraged to get in touch with Pub Crawl Budapest via email or phone for further details. In addition to their website, Pub Crawl Budapest maintains a Facebook page where they frequently post photos and videos, share information on future crawls and communicate with their clients. More information about the company can also be found at the following link: https://www.pressadvantage.com/story/32350-pub-crawl-budapest-promotes-socially-responsible-partying-and-bar-hopping.


SOURCE: Press Advantage [Link]