Haltom City, TX-based Let's Jump Rentals is offering parents in Fort Worth and beyond the convenience and reassurance of renting bounce houses that are designed specifically for toddlers and small children. The company has long understood that parents want to be able to ensure their children have a good time in as safe an environment as possible, and this is exactly what the company provides. Additionally, its inventory is expansive and varied, enabling parents (or their children) to pick bounce houses that best suit their preferences, party theme, budget, and timeframe.
Let's Jump Rentals Owner Scott Ratliff said, "You want what's best for your kids, and so do we. That's why our team has gone to extraordinary lengths to ensure that every rental we procure and offer meets a set of stringent standards. A bounce house is supposed to be fun while simulating exciting and engaging activities. We can assure our customers that we have taken all possible considerations into account and that we prioritize safety by partnering with industry-leading manufacturers to provide top-quality bounce houses for all occasions!"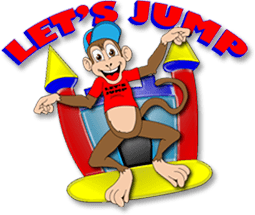 One of the most sought-after toddler-specific inflatables is the "Fun Express Train Bounce House," which begins at $225 for up to six hours of rental time. This unit requires a setup area of 30 feet wide by 23 feet long by 10 feet high and uses two standard outlets. According to the company website, toddlers and children up to the age of eight can safely use this inflatable and enjoy the bright colors, obstacles, pop-ups, and slides.
Ratliff explains that all of the company's bounce houses are crafted from safe, lead-free, and fire-resistant materials. The hidden danger he speaks of refers to toxic exposure to unsafe materials, which may be present in substandard rentals. Cognizant of this possibility, the company actively makes it a point to vet the manufacturers and retailers they partner with, and any that cannot guarantee the exclusive use of safe materials are simply excluded from any orders the company makes. While safety is the company's foremost priority, it has yet to compromise on the fun its rentals can offer.
Let's Jump Rentals also understands that customers want a convenient, hassle-free rental. As such, the team makes it a point to offer exemplary customer service, and this is evident from the moment the customer first calls Let's Jump Rentals or visits its official website. While customers will generally be familiar with making a rental over the phone, the company says its website enables customers to make a booking at their leisure, and they can designate the date, time, and location with ease. A calendar is also available, showing customers whether a rental is available during the period they want. Whether a booking is made online or off, however, customers can expect the company to carefully follow up whenever necessary to ensure the rental meets all their expectations.
A. Boksiner says in a glowing review, "I could not be happier! We rented 'Splash Island' for my daughter's 4th birthday party. The delivery drivers arrived exactly when they said they would. Setting it up took minutes. My daughter and her friends played and kept cool in the Texas heat. Her party was a huge success thanks to Let's Jump. I have heard of other companies canceling at the last minute, but Let's Jump kept in contact from the time I booked the rental to the day of delivery. I highly recommend Let's Jump to anyone looking to host a great time!"
M. French also says, "We had an amazing experience with Let's Jump. They had great customer service and called us to confirm our reservation a few days before the rental. On the day of, we received text messages with an ETA. The set up was quick and easy. All of the toddlers at our two year old's birthday party loved the toddler bounce house and the parents all raved about it! Can't wait to use Let's Jump again for future rentals."
Let's Jump Rentals works with customers across the region, including those residing in Keller, Plano, Mesquite, Rockwall, Hurst, Arlington, Garland, and so on. A full breakdown of its service area can be found on the company's website, and customers are welcome to get in touch over the phone if they want to check with a company representative. Other inquiries may be made in this manner as well. Alternatively, the company can be reached via email or through its social media platforms.


SOURCE: Press Advantage [Link]